It's hard to believe that January is already over! We're 1/12 through 2019! Gah, the year is going by fast!
Anyways, I've had a pretty productive month reading/blogging-wise. I've read quite a lot, and I've managed to knock out a few of the ARC reviews I've been meaning to write for weeks!
Here is my month in books!
Books Read in January 2019:
1. Evermore by Sara Holland
3 Stars
I feel like this book's predecessor, Everless, set the bar of greatness so high that Evermore failed to meet my expectations. It wasn't bad or anything, but it wasn't nearly as good as Everless. Welp, I'm still sad to see this duology come to an end nonetheless.
2. Amber & Dusk by Lyra Selene
3 Stars
Since it was the December Unicorn Crate Book of the Month, I wanted to love Amber & Dusk soooo badly. But, unfortunately, I just wasn't feeling it. I didn't have much love for Silvie, the main character (she was quite obnoxious), and the story itself just didn't interest me.
3. Suicide Notes From Beautiful Girls by Lynn Weingarten 
3 Stars
This book is kind of cliche and filled with an outrageous amount of tropes, but I enjoyed it nonetheless! I'm sort of a mood reader which is why this book was fun to read since it was such a guilty pleasure!
4. Forest of a Thousand Lanterns by Julie C. Dao

4 Stars
Really enjoyed this one! But I'm slightly scared to read the sequel because I've heard mixed things about it… Have you read it? And if so, is it worth reading?
5. Mirror, Mirror by Jen Calonita
4 Stars
This was my first time reading a Disney Twisted Tale, and I must say, I thought that Mirror, Mirror was pretty darn good! I really enjoyed getting to know more about the fairy tale characters we've all grown up loving! …Or hating *cough cough* the Evil Queen. Anyways, if you'd like to read my review for this one, click this link.
6. Clockwork Princess by Cassandra Clare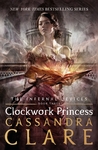 5 Stars
It's been a while since I've been hit this hard by a book… (jk not really). Ugh, THAT ENDING WAS SO UNEXPECTEDLY PERFECT! But now I'm crying because this amazing series is over! ):
7. The Light Between Worlds by Laura E. Weymouth
5 Stars
This book is the epitome of beautiful! I'm so so glad that I picked it up, for I loved it so much… so much that I'm actually planning to do a reread soon! Find my review for this gem of a novel here. 
8. Ash Princess by Laura Sebastian
3 Stars
Meh. This was just your typical trashy, cheesy, trope-filled YA fantasy novel. But sometimes I'm in the mood for those kinds of books (mood reader, remember?), so I actually found Ash Princess to be quite a fun read! Can't decide if I'll read book 2 or not!
9. A Torch Against the Night by Sabaa Tahir

2 Stars
After thoroughly enjoying An Ember in the Ashes, I was super disappointed when I read this book and (I don't know how else to put it) hated it. To be honest, I think that a two-star rating is generous… Yep, it was that bad. I'm sorry, but I nearly died of boredom. Rest assured that I will NOT be reading A Reaper at the Gates.
9. Truthwitch by Susan Dennard
1 Star (DNF @ 40%)
This was a total snoozefest!!! I honestly don't get how these books are so popular… The writing style is so bland and the pacing rivals that of a slug! Lesson learned: DON'T GIVE INTO THE HYPE.
10. Mirage by Somaiya Daud
4 Stars
I liked this one a lot more than I thought I would! Not only was it interesting and fast-paced, but it got me out of a reading slump (*gives Truthwitch the stinkeye*)! LESSON LEARNED: DO GIVE INTO THE HYPE.
11. Between Before and After by Maureen Doyle McQuerry
4 Stars
Thanks for the arc, NetGalley! Between Before and After was a book that I ended up enjoying a lot! It was very character-driven, and y'all know I love it when books contain well-developed characters! Find my review for this lovely novel here. 
12. The Cruel Prince by Holly Black
5 Flippin Stars
Oh. My. Gosshhhhh. THIS WAS PERFECTION. UTTER PERFECTION. But now I have a dilemma. I need the Wicked King in my life sooooo badly, but then I'll have to wait another YEAR for Book 3, which seems impossible. WHAT DO I DO?
13. Blanca and Roja by Anna-Marie McLemore
5 Stars
Another amazing book! I absolutely adore Anna-Marie McLemore's writing style! Her sentences are filled with such stunning detail and lovely imagery that it's nearly impossible to put this book down! Wild Beauty is definitely on my TBR for this month, for I am desperate to read more of Ms. McLemore's work!
14. The Girl King by Mimi Yu
2 Stars
Ehhhhh. I can't say I loved this one. I was really looking forward to reading it, as I have been loving all the amazing YA releases by Asian authors that I've gotten my hands on recently! But, alas, the Girl King didn't live up to my high expectations. If you are looking for some great YA fantasy novels written by Asian Authors, I'd recommend Spin the Dawn by Elizabeth Lim, Girls of Paper and Fire by Natasha Ngan, and Forest of a  Thousand Lanterns by Julie C. Dao. 
15. Poseidon's Academy by Sarah A. Vogler
3 Stars
This was a fun middle grade read, yet I couldn't help but feel like it was a rip-off of Percy Jackson. It's difficult not to pick up a lesser-known children's novel about demigods fighting off mythical creatures and monsters without immediately thinking of the PJatO series.
16. My Lady Jane by Cynthia Hand, Brodi Ashton, and Jodi Meadows
4 Stars
This was such a light, enjoyable, laugh-out-loud read! You can definitely tell that Brodi Ashton, Cynthia Hand, and Jodi Meadows work well together! I'm looking forward to reading My Plain Jane!
17. The Raven Boys Stiefvater

2 Stars
This book wasn't awful, but it just contained too much romance (CHEESY romance might I add) for my liking. I mean, there were so many significant things going on within the plot, but the author just HAD to talk all about the cliche romance that no one even cared about.
18. Hurricane Season by Nicole Melleby
4 Stars
Thanks, Algonquin Young Readers, for mailing me an arc of this one! Hurricane Season was such a heartbreakingly emotional read about love, loss, and family. Every page of it was beautiful. I will be publishing a review for it soon!!!
19. Foreign to You by Jeremy Martin
3 Stars
Wow, January has certainly been a month of ARCs (Thanks, NetGalley)! This book had some details that I found rather "meh", but it was overall a pretty decent read. Find my review for it here.
20. Spin the Dawn by Elizabeth Lim
5 Stars
This was WONDERFUL! About a week ago, I very nearly pulled an all-nighter staying up reading this amazing book. I literally can't wait for Spin the Dawn to be published in July, because THE WORLD NEEDS TO READ THIS BOOK! Brace yourselves for a gushing review!!
21. Stain by A.G. Howard
1 Star
Don't even get me started on this one… Stain literally put me to sleep!!! Did you pick it up because you were immediately attracted to its gorgeous cover? Yeah, me too. But don't be fooled! This book is bad news. Save yourself from falling into a reading slump and find something else to read.
22. House of Salt and Sorrows by Erin A. Craig
Ummm, this is irrelevant to my interest in this book (or it is???), but this cover is totally giving me To Kill a Kingdom vibes! Anyways, House of Salt and Sorrows was really good! It was a very interesting take on the Twelve Dancing Princesses. Find my review for it here.
23. Blood Heir by Amélie Wen Zhao
2.5 Stars
Okay… so I know this book is a touchy subject for a lot of people, so I'm not going to express my personal opinion about it to avoid causing unnecessary arguments. What I will say is that I read this book (as an ARC) before knowing that it had been pulled from publication, so I therefore don't think it is appropriate for me to write a review for it. If you are reading this and are totally confused about what I'm talking about, feel free to watch this video created by the amazing Francina Simone where she explains the whole controversy that this book has stirred up and why its publication has been cancelled.
Anyways…
23 books! Not bad considering how busy my month has been!
Let's move on.
Blog Archive of January 2019:
My first posts of the year!
-ARC Review For SLAYER by Kiersten White
-Bookish New Year's Resolutions
-ARC Review for Mirror, Mirror by Jen Calonita
-Throne of Glass vs. A Court of Thorns and Roses Book Tag!
-Review for The Light Between Worlds by Laura E. Weymouth
-ARC Review for Foreign to You by Jeremy Martin
-WWW Wednesday 1/30… Bring on the Books!
Eight posts! That's twice as many as last month! Whoo-hoo!
Overall, I'm pretty satisfied with how my month has gone!
Unfortunately, I probably won't post or read all that much this month due to the fact that its tech week for the musical theatre production I'm in which = no free time + sleep deprivation.
So just be aware of that if you don't hear much from me throughout February
Enough about me, though! How was your month? Did you read any good books? Let me know down below (and feel free to link your January Wrap-Up post if you have one)!