Trigger Warnings: Mental illness, bipolar depression, parental abandonment, manic behaviour. 
Synopsis (via Amazon):
Fig, a sixth grader, wants more than anything to see the world as her father does. The once-renowned pianist, who hasn't composed a song in years and has unpredictable good and bad days, is something of a mystery to Fig. Though she's a science and math nerd, she tries taking an art class just to be closer to him, to experience life the way an artist does. But then Fig's dad shows up at school, disoriented and desperately searching for Fig. Not only has the class not brought Fig closer to understanding him, it has brought social services to their door.
Diving into books about Van Gogh to understand the madness of artists, calling on her best friend for advice, and turning to a new neighbor for support, Fig continues to try everything she can think of to understand her father, to save him from himself, and to find space in her life to discover who she is even as the walls are falling down around her.
Rating: 4 Stars
Disclaimer: This book was sent to me by Algonquin Young Readers in exchange for an honest review. The following paragraphs consist of my own views and opinions, which may differ from yours. Please do not take offence to the fact that we might not agree on certain matters! It is not a personal attack on you.
My Review:
***MILD SPOILERS AHEAD***
This truly was a beautiful book.
I honestly don't know where to begin, so let's just start here: I've heard a lot of controversy over whether or not middle-grade novels should shed light on mental illness. Mental illness can indeed be a touchy subject for some, as it sometimes can hit very close to home. But I, personally, believe that middle-grade novels that tackle mental illness can provide comfort, solace, and relief for young readers who are struggling with varying disorders. I find that it's important that adults and children alike can feel said emotions while reading a book, for it can often help them feel less alone in a world that is (however unfortunately) divided by the stigma that surrounds mental health.
So, with that being said, I applaud Nicole Melleby for being able to create a piece of fiction that has depicted bipolar depression, a serious mental illness characterized by episodes of mood swings ranging from depressive lows to manic highs, in a raw, honest way that is relatable to young readers.
While reading this book, I was truly touched to see how deep the relationship between Fig, the protagonist, and her bipolar father went. Fig's feelings towards her father were constantly spiralling– Sometimes she felt anger when he behaved maniacally in front of her peers (who often made fun of her father because of his illness), sometimes she felt amazed and proud at how incredible a composer he was, and sometimes she felt guilty for not "being enough" for him. All these emotions really made Fig and her father's relationship a complex one.
I'd also like to mention how wonderfully beautiful Nicole Melleby's writing style is. Her writing is stunning in a deep, intricate way, yet it is still easily comprehensible no matter what your age is. In fact, I was so wowed by the complexity of Melleby's work that I was surprised to see that Hurricane Season was her debut! Ms. Melleby is undeniably a rising talent in the middle-grade genre.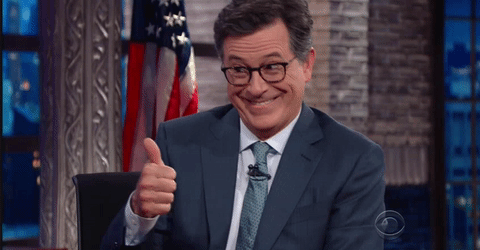 The only thing about this book that I would critique is the unnecessary hint at a 
potential romantic relationship between Fig and a secondary female character in the story. There was really no need for this, for there was no connection between Fig and this other character (her name was Molly I believe) whatsoever, at least in my perspective. To me, it just seemed like the author's feeble attempt to make an already diverse book
even more
diverse by having a f/f romance. Honestly, it just looked sloppy, for there was no point in the relationship and Fig and Molly since they barely interacted with each other throughout the book.
But this detail didn't lessen my enjoyment of the book itself, so at the end of the day it's no big deal.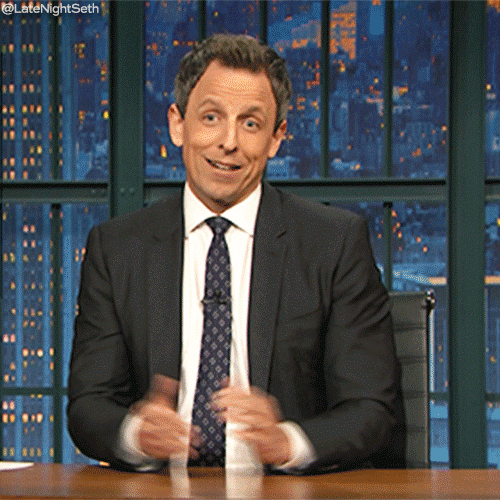 (Wait, why are all the gifs I'm using of talk show hosts???)
Overall I'm pleased to say that I really enjoyed Hurricane Season. It's a touching, memorable book that will embed itself in your heart from the moment you pick it up to a time far far beyond the moment you put it down ❤ ❤ ❤
Thank you so much Algonquin Young Readers for providing me with this gem of an arc! I loved every page of it, and I can't wait for its release!
Speaking of which, pre-order your copy of Hurricane Season here so you can get your hands on a copy as soon as it's published! You won't want to miss this book!