🎶 All I want for Christmas is… 🎶
BOOOOOOKKKKKSSSSS!
Not really, though. But actually, kind of.
Hey everyone, welcome to my third post since I recovered from my terrible blogging slump that lasted half of 2019! Whoo-hoo!
Since the holiday season is basically here (my rule is that it is acceptable to start speaking of Christmas the day after Thanksgiving), I thought I'd assemble a little list of books that would bring me much joy this Christmas 😃 There's nothing like waking up on Christmas day and ripping apart a beautifully wrapped package to find the book you've been hoping for laying before your eyes in all its bookish glory. Anyways, let me share with you my list!
What Alice Forgot by Liane Moriarty
Synopsis:
Alice Love is twenty-nine, crazy about her husband, and pregnant with her first child.
So imagine Alice's surprise when she comes to on the floor of a gym and is whisked off to the hospital where she discovers the honeymoon is truly over — she's getting divorced, she has three kids and she's actually 39 years old. Alice must reconstruct the events of a lost decade, and find out whether it's possible to reconstruct her life at the same time. She has to figure out why her sister hardly talks to her, and how is it that she's become one of those super skinny moms with really expensive clothes.
Ultimately, Alice must discover whether forgetting is a blessing or a curse, and whether it's possible to start over.
Thoughts:
I love the idea behind this book, and I really hope it delivers! I'm always up for a good mystery, so I can't wait to get my hands on this one.
Red Rising by Pierce Brown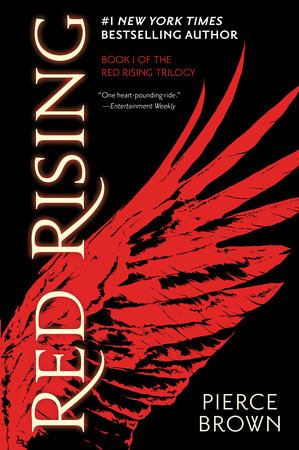 Synopsis:
Darrow is a Red, a member of the lowest caste in the color-coded society of the future. Like his fellow Reds, he works all day, believing that he and his people are making the surface of Mars livable for future generations. Yet he toils willingly, trusting that his blood and sweat will one day result in a better world for his children.
But Darrow and his kind have been betrayed. Soon he discovers that humanity reached the surface generations ago. Vast cities and lush wilds spread across the planet. Darrow—and Reds like him—are nothing more than slaves to a decadent ruling class.
Inspired by a longing for justice, and driven by the memory of lost love, Darrow sacrifices everything to infiltrate the legendary Institute, a proving ground for the dominant Gold caste, where the next generation of humanity's overlords struggle for power. He will be forced to compete for his life and the very future of civilization against the best and most brutal of Society's ruling class. There, he will stop at nothing to bring down his enemies . . . even if it means he has to become one of them to do so.
Thoughts:
I don't know how or why I haven't read this one yet– It sounds like exactly the type of book I would love! The idea of a book set on Mars as it's being colonized by humans sounds epic to me!
Sleeping Giants by Sylvain Neuvel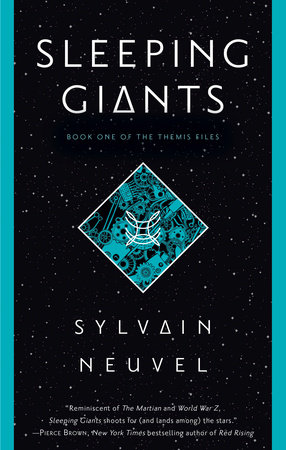 Synopsis:
A girl named Rose is riding her new bike near her home in Deadwood, South Dakota, when she falls through the earth. She wakes up at the bottom of a square hole, its walls glowing with intricate carvings. But the firemen who come to save her peer down upon something even stranger: a little girl in the palm of a giant metal hand.
Seventeen years later, the mystery of the bizarre artifact remains unsolved—its origins, architects, and purpose unknown. Its carbon dating defies belief; military reports are redacted; theories are floated, then rejected.
But some can never stop searching for answers.
Rose Franklin is now a highly trained physicist leading a top secret team to crack the hand's code. And along with her colleagues, she is being interviewed by a nameless interrogator whose power and purview are as enigmatic as the provenance of the relic. What's clear is that Rose and her compatriots are on the edge of unraveling history's most perplexing discovery—and figuring out what it portends for humanity. But once the pieces of the puzzle are in place, will the result prove to be an instrument of lasting peace or a weapon of mass destruction?
Thoughts:
Based off of its synopsis, this isn't usually the type of novel I'm drawn to, but it sounds like something I might find surprisingly enjoyable. And I absolutely love the cover!
Girl at War by Sara Novic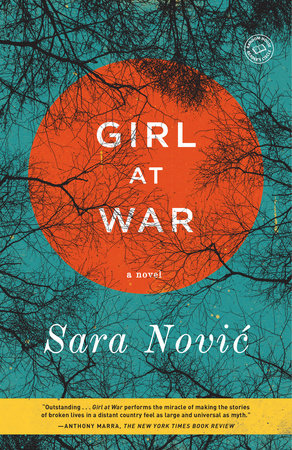 Synopsis:
Zagreb, 1991. Ana Jurić is a carefree ten-year-old, living with her family in a small apartment in Croatia's capital. But that year, civil war breaks out across Yugoslavia, splintering Ana's idyllic childhood. Daily life is altered by food rations and air raid drills, and soccer matches are replaced by sniper fire. Neighbors grow suspicious of one another, and Ana's sense of safety starts to fray. When the war arrives at her doorstep, Ana must find her way in a dangerous world.
New York, 2001. Ana is now a college student in Manhattan. Though she's tried to move on from her past, she can't escape her memories of war—secrets she keeps even from those closest to her. Haunted by the events that forever changed her family, Ana returns to Croatia after a decade away, hoping to make peace with the place she once called home. As she faces her ghosts, she must come to terms with her country's difficult history and the events that interrupted her childhood years before.
Moving back and forth through time, Girl at War is an honest, generous, brilliantly written novel that illuminates how history shapes the individual. Sara Nović fearlessly shows the impact of war on one young girl—and its legacy on all of us. It's a debut by a writer who has stared into recent history to find a story that continues to resonate today.
Thoughts:
I really enjoy all types of historical fiction, and Girl at War sounds like a book that I have to read. I haven't read much on the Yugoslav Wars, so I feel like this book would give me a great opportunity to become more familiar with a part of history I know little about.
Anyways, that's my list! 
What's yours? I'd love to hear what books you all are hoping to get this holiday season– Or which ones you'd recommend I add to my own list! 😂❤
Thank you so much for taking the time to read this post! I'm wishing you all a very joyful rest of your week!
-Octavia