When Rukky @ Eternity Books tagged me in her post for the Fall Bucket List Book Tag, it was a rude awakening for me (No fault of hers, of course 😂)! Fall is nearly over, and I haven't done one fall book tag yet! Curse me! And since it's December, everyone is pretty much in winter mode already. But, alas, this tag looks like fun, and I know I should at least try to do a fall-themed post before the season ends in about a week. Thank you so much to Rukky for tagging me, make sure to check out her post as well (and all of her other beautiful blog posts)! With that being said, let's begin!
Rules:
Link back to the original creator in your post. (Tiffany @ Read By Tiffany)
Feel free to use any of Tiffany's graphics in your post, or create your own!
Tag 7+ other people at the end of your post, and let them know you've tagged them.
Geekerella by Ashley Poston
This book is absolutely adorable and I can't recommend it enough! I think it's gotten a decent amount of hype, but I still talk to a lot of readers who have never picked it up before!
Geekerella is probably my favourite YA contemporary novel ever, but then again, that's not saying much since I don't really read much YA contemporary. But regardless of that, it is a wonderful book that is perfect to snuggle up with when you're in the mood for a light, fun read. Also, it involves pumpkins, so it's perfect for fall!
The Cruel Prince by Holly Black
If you know me at all, you'll know I loveeeee the Cruel Prince/the Folk of the Air series. Holly Black is such a talented author– I love the way she weaves her stories together with stunning imagery and jaw-dropping plot twists. I'm not usually a re-reader, but the Cruel Prince is just one of those books that I'll be able to read over and over again and never get tired of!
Now that the Folk of the Air trilogy is over (don't cry, Octavia, don't cry), I can't wait to see what Holly Black has in store for her readers next!
The Lunar Chronicles by Marissa Meyer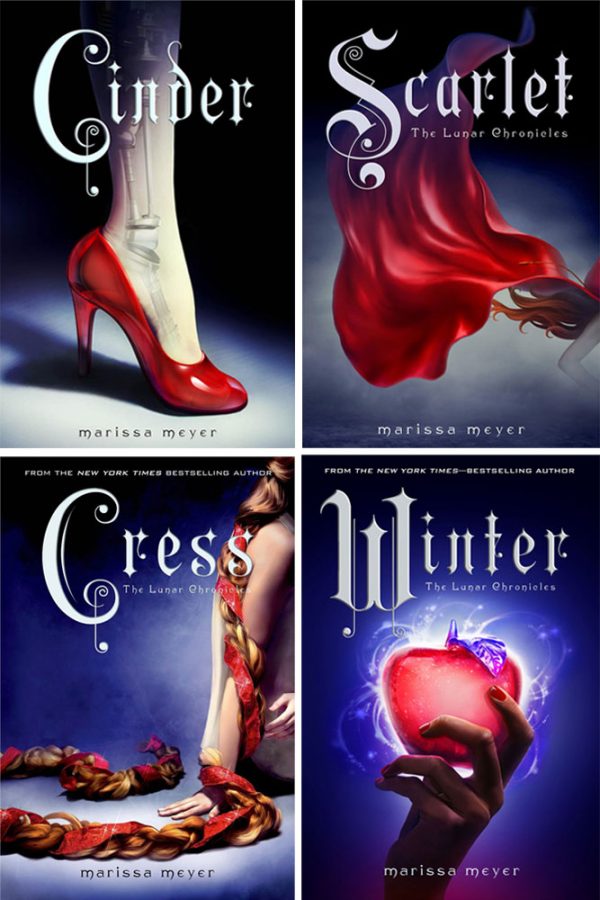 Another one of my absolute favourite series! Like the Cruel Prince, the Lunar Chronicles are books I can reread and enjoy forever!
I love how in this series, Marissa Meyer crafts numerous different characters from different backgrounds and with varying personality traits and manages to bring them together to support each other and form beautiful relationships. Some of my favourite friendships in this series include those between Cinder and Iko and Scarlet and Winter!
This Is How It Always Is by Laurie Frankel
This book really touched me.
Such a sweet, honest, and beautiful story that will melt your heart. This Is How It Always Is made me feel so many different emotions, all of them raw and real. I remember my experience reading this book so vividly, which is partly why I love it so much. It takes a lot to craft a memorable book like this one that stays with readers for such a long time.
Heartless by Marissa Meyer
Another Marissa Meyer book… Coincidence? I think not!
Cath, the main character in Heartless, is a talented baker who wants to open her own shop to make a business out of her delectable creations. Throughout the book, descriptions of all the tasty treats Cath makes had my mouth watering. I myself have a major sweet tooth, so I love it when I come across a book that has a lot of wonderful imagery involving sweet treats. In fact, typing this right now is really making me want to dive into a Heartless re-read just for that purpose!
Spin the Dawn by Elizabeth Lim
There are a ton of books that have literally made me jump for joy, but for this prompt, I just had to go with Spin the Dawn.
When I got the email that I had received an eARC of it, I was so thrilled and started reading it right away… I proceeded to finish it in just a few hours, that's how much I loved it!
I hype up this book so much because I love the originality and diversity it brings to YA literature. Definitely give this book a read when you get the chance!
Tagging:
Are you sad that Fall is almost over? Or are you ready for Winter?
Honestly, I'm reading for winter! I love fall, but I'm ready for the transition into the next season. Plus… Christmas!
Thank you all for reading this post! Hope you enjoyed it! Have a lovely weekend!
-Octavia