With self isolation and quarantine taking over our lives right now, there couldn't be a better time to reread some of our favorite series! I usually put off rereading books because I want to priortize reading books that I've never picked up before. But now that I have so much more time on my hands, I'm going to seize the opportunity to reread some of my favorite books and series. Starting with…
The A Court of Thorns and Roses Series by Sarah J. Maas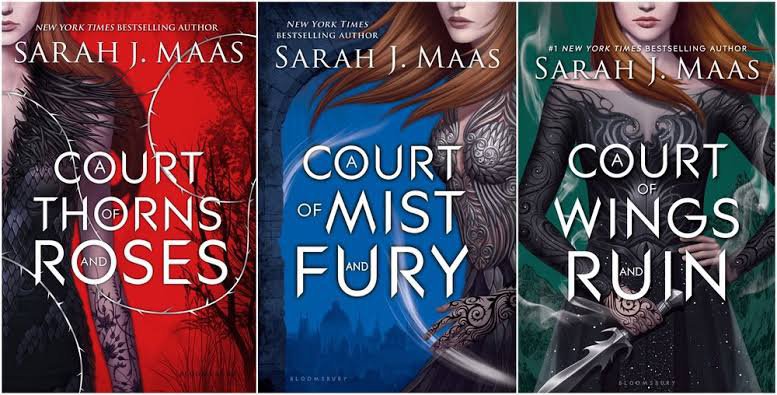 This is one of the first YA series I read, and lately I've been feeling so nostalgic for it! ACOTAR planted the seed for my love of fantasy, and it's one of my favorite series within the genre to this day. I'm really looking forward to rereading it and hopefully noticing things about it that I hadn't paid attention to during my first read of it. Also, I want to reread ACOTAR before the Nessian novel comes out, so now seems like the perfect time!
 Spin the Dawn by Elizabeth Lim
Guys… I got the ARC of Unravel the Dusk! You won't believe how excited I am! I absolutely loved Spin the Dawn, and I'm sure Unravel the Dusk will be just as good. My memory of the events that occurred in Spin the Dawn is a little fuzzy, though, so I think it would be best to reread it before diving into Book 2.
The Selection Series by Keira Cass
If you haven't heard, The Selection series is headed to Netflix! When I learned of this thrilling development, my first thought was: It's about time! I've been waiting years for a film adaptation of The Selection, and now it's finally in the works! I know that it'll be a long while before we'll get to see America and Maxon on screen, but that doesn't mean it's too early for a reread of the Selection series! I'm probably just going to stick to rereading the OG trilogy, because I really didn't like the two books told from the perspective of America and Maxone's daughter. I know that this series is incredibly cheesy, but it's so fun and swoon worthy. I can't wait to dive back into this fun story and revisit some of my favorite characters.
Carval by Stephanie Garber
I read the first two books in this trilogy a while ago, but I never got to the third and final book, Finale. I really liked Book 1, Carval, and while Book 2, Legendary, wasn't nearly as good, I still had a fun time reading it. Unfortunately, though, I've completely forgotten everything that happened in the books, so there's no way I'm reading Finale without rereading Caraval and Legendary first!
Do you reread books? If so, are there any you plan on rereading in the near future?
Let me know in the comments! Stay healthy and safe, friends, and keep reading!
xoxo,
Octavia ❤