Hey all! I'm so excited to be participating in this year's Medieval-a-Thon on my blog!
The Medieval-a-Thon is a month long readathon hosted by @HollyKnece about increasing your nobility and assembling armor and weapons the more books you read! It begins May 1st 2020, so only a few more days to assemble your TBRs based off of all the fun medieval themed challenges Holly has come up with! The Medieval-a-Thon twitter has all of the prompts/graphics you will need to participate, so feel free to take a look at them here. All of the pictures in this post are taken from said Twitter page– I did not create any of these!
With that being said, let's take a look at my Medieval-a-Thon TBR!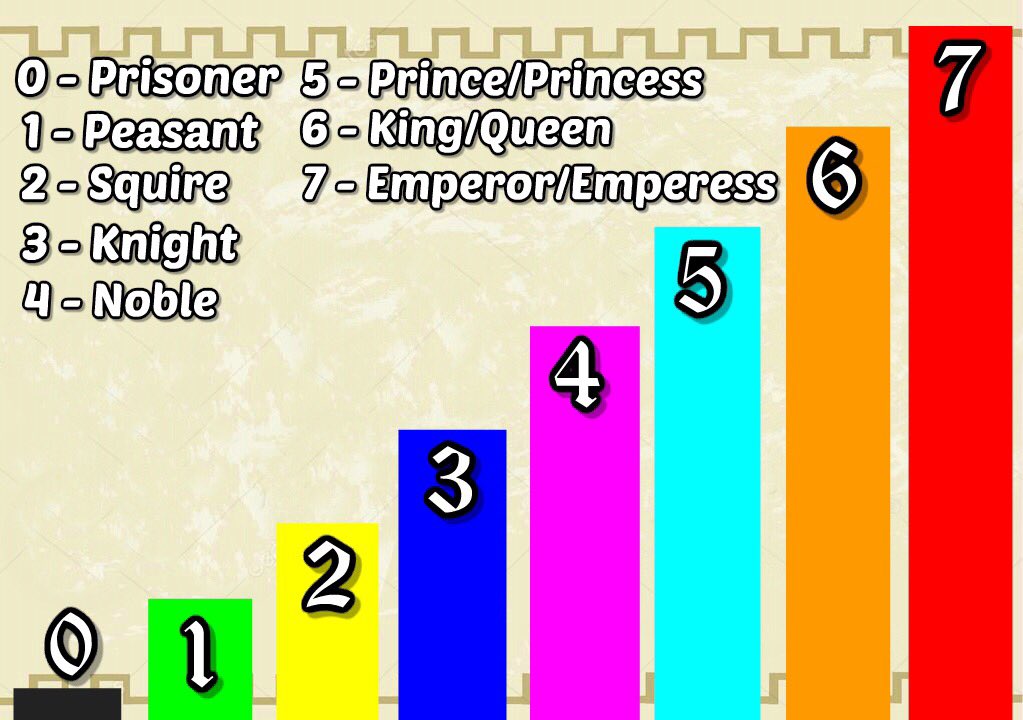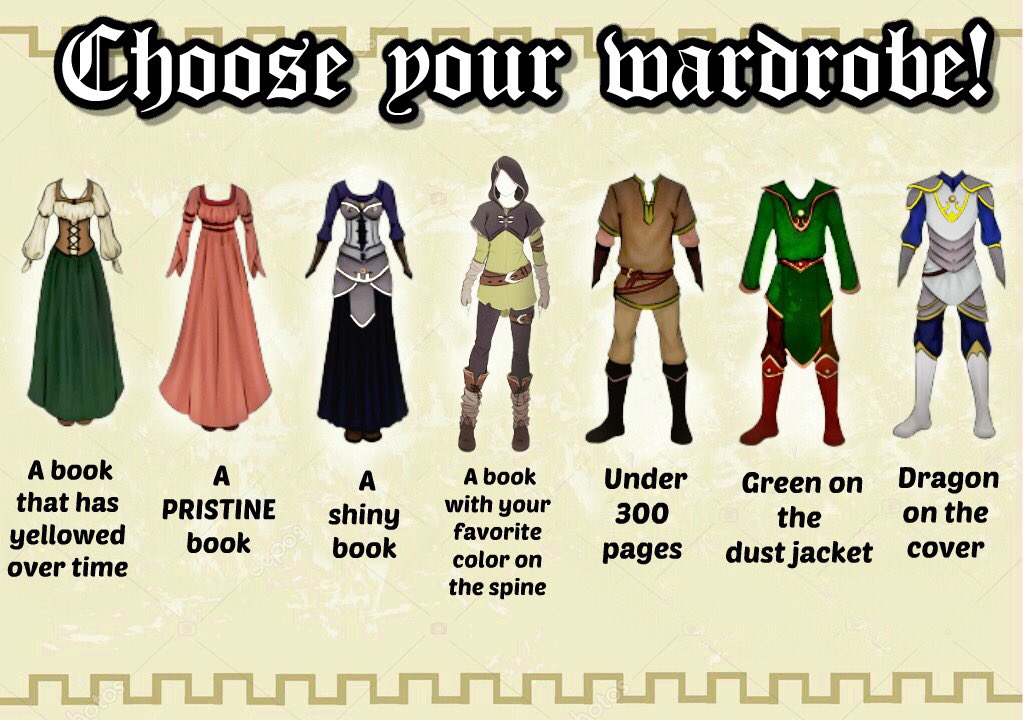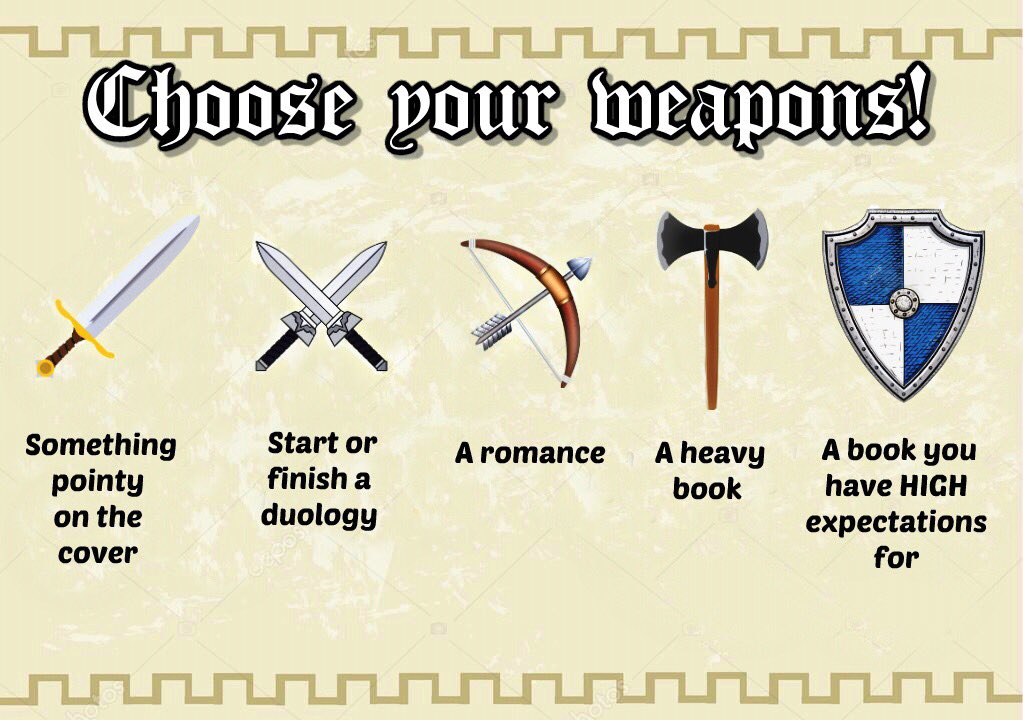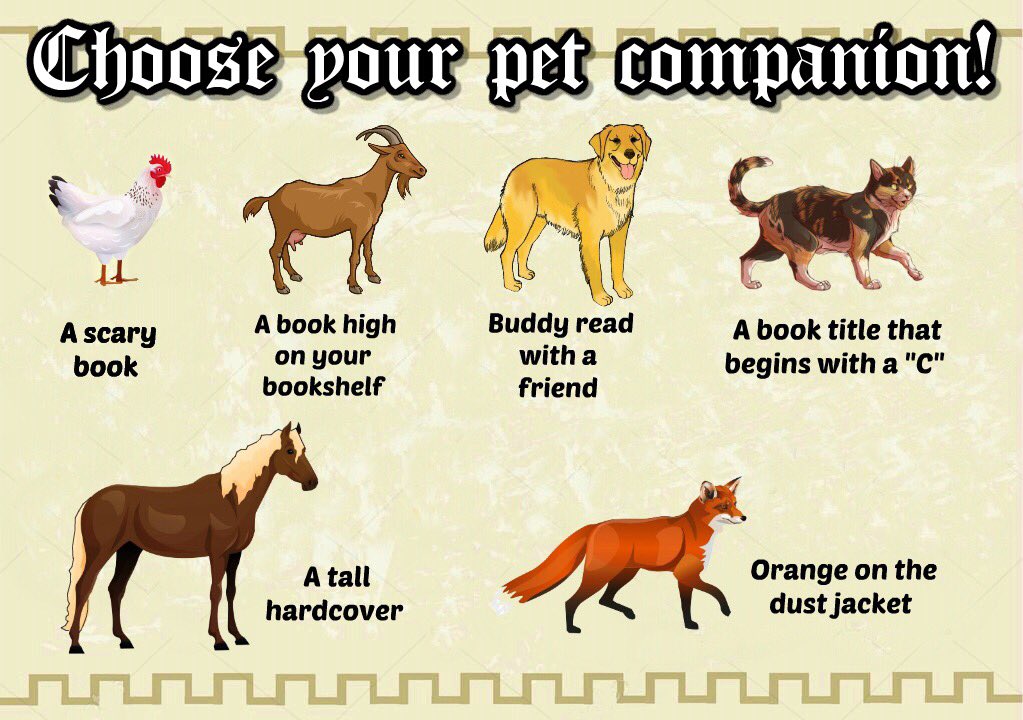 Y'all already KNOW I wanna become an empress by the end of May, so bring on the books!
Challenges I Plan to Complete
A Pristine Book: The Immortal Rules by Julie Kagawa
Synopsis: Allison Sekemoto survives in the Fringe, the outermost circle of a vampire city. By day, she and her crew scavenge for food. By night, any one of them could be eaten. Some days, all that drives Allie is her hatred of them—the vampires who keep humans as blood cattle. Until the night Allie herself is attacked and becomes one of the monsters. Forced to flee her city, Allie must pass for human as she joins a ragged group of pilgrims seeking a legend—a place that might have a cure for the disease that killed off most of civilization and created the rabids, the bloodthirsty creatures who threaten humans and vampires alike. Soon Allie will have to decide what—and who—is worth dying for… again
My Thoughts: My copy of this book is brand-new, and thus pristine! Totally loving the cover update, btw. I've heard great things about this one, and I'm always up for an action packed vampire read, so bring it on!
Something Pointy on the Cover: All the Stars and Teeth by Adalyn Grace
Synopsis: As princess of the island kingdom Visidia, Amora Montara has spent her entire life training to be High Animancer—the master of souls. The rest of the realm can choose their magic, but for Amora, it's never been a choice. To secure her place as heir to the throne, she must prove her mastery of the monarchy's dangerous soul magic. When her demonstration goes awry, Amora is forced to flee. She strikes a deal with Bastian, a mysterious pirate: he'll help her prove she's fit to rule, if she'll help him reclaim his stolen magic. But sailing the kingdom holds more wonder—and more peril—than Amora anticipated. A destructive new magic is on the rise, and if Amora is to conquer it, she'll need to face legendary monsters, cross paths with vengeful mermaids, and deal with a stow-away she never expected… or risk the fate of Visidia and lose the crown forever.
My Thoughts: As you can see, this book has swords on the cover, which are, of course, very pointy. This book is a mash-up of mermaids, pirates, and magic… All things I love in a book! I'm not exaggerating when I say I can't wait to read it.
Start or Finish a Duology: Strange the Dreamer by Laini Taylor
Synopsis: The dream chooses the dreamer, not the other way around–and Lazlo Strange, war orphan and junior librarian, has always feared that his dream chose poorly. Since he was just five years old, he's been obsessed with the mythic lost city of Weep, but it would take someone bolder than he to cross half the world in search of it. Then a stunning opportunity presents itself, in the form of a hero called the Godslayer and a band of legendary warriors, and he has to seize his chance or lose his dream forever.
What happened in Weep two hundred years ago to cut it off from the rest of the world? And who is the blue-skinned goddess who appears in Lazlo's dreams?
In this sweeping and breathtaking novel by National Book Award finalist Laini Taylor, author of the New York Times bestselling Daughter of Smoke & Bone trilogy, the shadow of the past is as real as the ghosts who haunt the citadel of murdered gods. Fall into a mythical world of dread and wonder, moths and nightmares, love and carnage. The answers await in Weep.
My Thoughts: I don't read too many duologies, mostly because they're less common than standalones and trilogies. But I'm so excited to start the Strange the Dreamer duology! People hype it up sooooo much! I honestly don't think I've heard one negative thing about it, which makes me all the more excited to read it!
A Book You Have HIGH Expectations For: The Princess Will Save You by Sarah Henning
Synopsis: When her warrior father, King Sendoa, mysteriously dies, Princess Amarande of Ardenia is given what would hardly be considered a choice: Marry a stranger at sixteen or lose control of her family's crown. But Amarande was raised to be a warrior—not a sacrifice. In an attempt to force her choice, a neighboring kingdom kidnaps her true love, stable boy Luca. With her kingdom on the brink of civil war and no one to trust, she'll need all her skill to save him, her future, and her kingdom.
My Thoughts: I have such high hopes for this book! I mean, it's a goddamn PRINCESS BRIDE RETELLING, how could I not be excited for it? I already have my eARC downloaded on my kindle, and I can't wait to dive into it! (Also, the dude on the cover can hit me up).
A Scary Book: The Kingdom of Little Wounds by Susann Cokal
Synopsis: On the eve of Princess Sophia's wedding, the Scandinavian city of Skyggehavn prepares to fete the occasion with a sumptuous display of riches: brocade and satin and jewels, feasts of sugar fruit and sweet spiced wine. Yet beneath the veneer of celebration, a shiver of darkness creeps through the palace halls. A mysterious illness plagues the royal family, threatening the lives of the throne's heirs, and a courtier's wolfish hunger for the king's favors sets a devious plot in motion. Here in the palace at Skyggehavn, things are seldom as they seem — and when a single errant prick of a needle sets off a series of events that will alter the course of history, the fates of seamstress Ava Bingen and mute nursemaid Midi Sorte become irrevocably intertwined with that of mad Queen Isabel. As they navigate a tangled web of palace intrigue, power-lust, and deception, Ava and Midi must carve out their own survival any way they can.
My Thoughts: From what I've heard, this one has a LOT of violence and gore, like a lot a lot. I'm kind of scared to read it, since I've heard such mixed reviews, but I think there's a good chance that I'll enjoy it!
A Heavy Book: The Ballad of Songbirds and Snakes by Suzanne Collins
Synopsis: It is the morning of the reaping that will kick off the tenth annual Hunger Games. In the Capitol, eighteen-year-old Coriolanus Snow is preparing for his one shot at glory as a mentor in the Games. The once-mighty house of Snow has fallen on hard times, its fate hanging on the slender chance that Coriolanus will be able to outcharm, outwit, and outmaneuver his fellow students to mentor the winning tribute. The odds are against him. He's been given the humiliating assignment of mentoring the female tribute from District 12, the lowest of the low. Their fates are now completely intertwined — every choice Coriolanus makes could lead to favor or failure, triumph or ruin. Inside the arena, it will be a fight to the death. Outside the arena, Coriolanus starts to feel for his doomed tribute . . . and must weigh his need to follow the rules against his desire to survive no matter what it takes.
My Thoughts: This bad bitch is 528 pages! I find it interesting that this prequel is much longer than any of the books in the OG Hunger Games trilogy. If anything, I'd have guess it to be much shorter, almost like a novella. But regardless of its length, I can't wait to read this one! I've already pre-ordered my copy, so hopefully I can read it by the end of May!
A Tall Hardcover: The Queen of Blood by Sarah Beth Durst
Synopsis:  Everything has a spirit: the willow tree with leaves that kiss the pond, the stream that feeds the river, the wind that exhales fresh snow . . . But the spirits that reside within this land want to rid it of all humans. One woman stands between these malevolent spirits and the end of humankind: the queen. She alone has the magical power to prevent the spirits from destroying every man, woman, and child. But queens are still just human, and no matter how strong or good, the threat of danger always looms. With the position so precarious, young women are chosen to train as heirs. Daleina, a seemingly quiet academy student, is under no illusions as to her claim to the throne, but simply wants to right the wrongs that have befallen the land. Ven, a disgraced champion, has spent his exile secretly fighting against the growing number of spirit attacks. Joining forces, these daring partners embark on a treacherous quest to find the source of the spirits' restlessness—a journey that will test their courage and trust, and force them to stand against both enemies and friends to save their land . . .  before it's bathed in blood.
My Thoughts: I typically gravitate towards paperbacks, but this book was only available as a mass market paperback on amazon, which I don't really like. So I decided to order the hardcover edition! I've heard great things about this book, so I'm super excited to read it!
I can't wait to read these books!
This readathon sounds like so much fun, and I can't wait for it to start on May 1st! Will you be joining it? If so, what will you be reading/what challenges will you be participating in? Be sure to let me know in the comments!
Have a lovely day,
Octavia ❤