I was struggling to come up with post ideas, and then I had a thought: Wouldn't it be fun to take a look at my all-time favorite series and decide which book in each of them is the strongest AND which book is the weakest? This is definitely going to be a challenge, as none of these titles are books I really disliked… they're part of my favorite series, after all! I'm extremely indecisive, so I'm probably going to struggle a lot. Brace yourself, reader!
I don't think any further introduction is necessary, so let's just dive right into these series!
The Folk of the Air Trilogy by Holly Black
This is literally the hardest decision EVER. The Folk of the Air trilogy is my #1 favorite series, and I can't name one bad thing about any of the books in it. How am I supposed to choose which one is the strongest and which one is the weakest? Ugh, why did I decide to do this post? *face palm*
Best: The Cruel Prince
After A LOT of contemplation, I have to say that I *think* The Cruel Prince is my favorite book in the Folk of the Air trilogy. I absolutely love the way Holly Black set up the plot and characters… God, that woman is a genius! I fell in love with Jude and Cardan in this book, and I absolutely loved how they hated and had feelings for each other at the same time. I know that The Wicked King and The Queen of Nothing had some memorable elements that The Cruel Prince lacked (being the first book in the series and all), but overall I think that it was an incredible start to an amazing adventure!
Worst: The Wicked King
I hate using the word "worst" when talking about this book, because there couldn't be a more ill-fitting word to describe it with! I loved The Wicked King with all of my heart, and it was an easy five star read for me. Honestly, it just didn't pack as much of an emotional punch as The Queen of Nothing did, which is to be expected. Again, this is my favorite series EVER. All three of the books were amazing. But The Cruel Prince and The Queen of Nothing might have been SLIGHTLY better than The Wicked King.
The Selection Series by Kiera Cass
Yes, yes, I know that this series is kind of trashy but I ATE THAT TRASH UP. Period. Anyways, it's much easier for me to decide which book in this series is my least favorite, as I really didn't enjoy the last two books. I mean, they were fine, but you really can't compare them to the amazingness that is the original first three books in the series.
Best: The One
"Break my heart. Break it a thousand times if you like. It was only ever yours to break anyway." I'M NOT CRYING, YOU ARE. The One was the perfect conclusion to America and Maxon's story, and for that reason it's my favorite book in the series!  It really had me feeling all the feels. America and Maxon are my OTP! ❤ Aspen can go fall in a ditch.
Worst: The Heir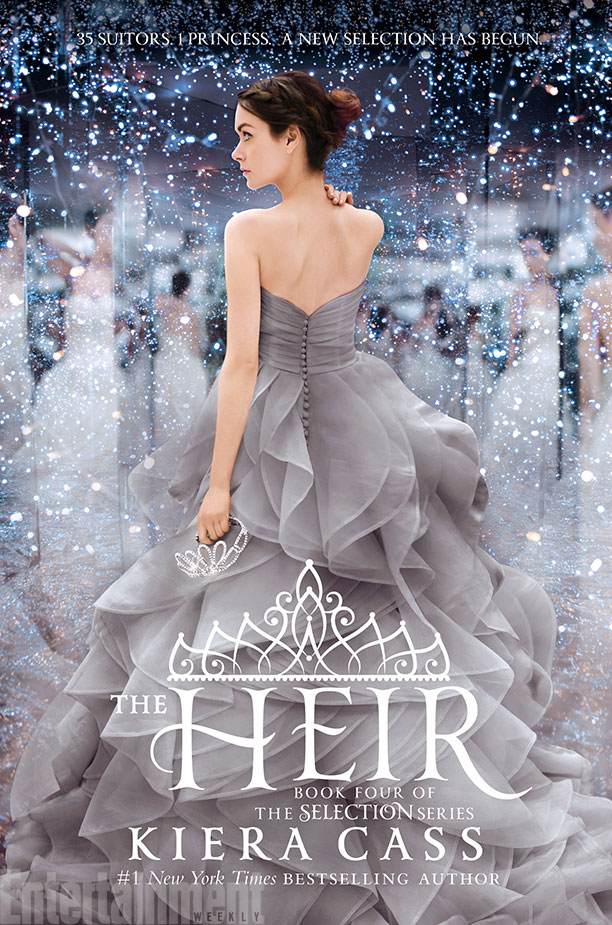 Like I said, this wasn't the worst book ever, but I don't think I would have minded if it hadn't been released. Honestly, I just really didn't vibe with Eadlyn, and I think that's why I didn't love the two books told in her perspective. She read off as such a spoiled brat (probably because she was one lol). Also, JUSTICE FOR KYLE. My boy didn't deserve the crappy ending he got!
The A Court of Thorns and Roses Series by Sarah J. Maas
I really hated A Court of Frost and Starlight, an ACOTAR novella, so for that reason I don't consider it a part of this series. I'm also aware that this series has not been finished yet, so I will only be judging the three books that are currently out: A Court of Thorns and Roses, A Court of Mist and Fury, and A Court of Wings and Ruin.
Best: A Court of Mist and Fury
My all-time favorite Sarah J. Maas book! A Court of Mist and Fury is emotionally charged, touching, and serious, but it is also funny and wildly entertaining. Some of my favorite characters were introduced and developed in this book, and the witty banter they share is hilarious! I love how healthy relationships are portrayed in this book. We get to see how Rhysand views Feyre as his mate and his equal, whereas Tamlin's love was a toxic obsession. I absolutely love ACOMAF and I think it is the best book Maas has written to this day!
Worst: A Court of Wings and Ruin
I still loved this book, but for some reason it didn't have the same addictiveness that ACOTAR AND ACOMAF had for me. I think this is because it was a much more emotional read. It's not my favorite book in the series, but I definitely think that it was a perfect ending to Feyre and Rhys's story. It was a long book, yes, but every page contributed to the story!
Again, I really hate using the word "worst" to describe all of these books, because they're still some of my favorites!
The Infernal Device Trilogy by Cassandra Clare
Best: Clockwork Princess
MY HEART! This book hit me so hard. It was beyond amazing! I never saw the ending coming, but it was so unexpectedly perfect. My heart literally broke into a million pieces! This is the best Cassie Clare book of all time AND I STAND BY THAT. It was actually one of the first books to ever make me cry… I say that's a pretty big deal. Honestly, 5 stars isn't enough to describe my love for this book.
Worst: Clockwork Prince
I still really liked this book, but like many of the other books I have rated "worst" (ugh, really starting to hate that word), it didn't have as much of an emotional effect on me as the other books in the series did. However, I really appreciated all of the wonderful character development that occurred in this book! I LOVE YOU WILL HERONDALE.
The Legend Trilogy by Marie Lu
Not including the spin-off books! I really love all of Marie Lu's series, but the Legend series might just be my favorite! Honestly, if you want your emotional state to be completely demolished, read this series.
Best: Champion
Out of all the books in the Legend series, Champion has to be my favorite. It tore me apart! After reading it, I was completely broken and I didn't think I could ever heal again. This book was so good and I just will not get over how cute Day and June are and the ending will forever have me crying. A fantastic conclusion to the series.
Worst: Prodigy
This book was not bad!!! (I'm really starting to sound like a broken record here, aren't I?). It just wasn't as good as Legend and Champion. The second book curse! Just kidding, I really loved Prodigy, I just have to rank it as worst because I tend to enjoy the first and third books in trilogies slightly more.
I'm seriously regretting making this post!
Why in the world did I think it would be a good idea to force myself to choose books in my favorite series and label them as WORST? Literally none of the books with said label are actually bad. I apologize for my stupidity. This is what quarantine is doing to me, you guys!
Welp, I guess I'll see you in my next post! Hopefully it's better than this one!
So long,