Huge thanks to Tor Teen for sending me a free review copy!
Disclaimer: All quotes mentioned in this review have not been finalized and may change prior to publication.
When her warrior father, King Sendoa, mysteriously dies, Princess Amarande of Ardenia is given what would hardly be considered a choice: Marry a stranger at sixteen or lose control of her family's crown.
But Amarande was raised to be a warrior—not a sacrifice.
In an attempt to force her choice, a neighboring kingdom kidnaps her true love, stable boy Luca. With her kingdom on the brink of civil war and no one to trust, she'll need all her skill to save him, her future, and her kingdom.
*** THIS REVIEW CONTAINS VERY MILD SPOILERS ***
(Honestly I don't even consider them spoilers, I just don't want anyone to get triggered at me if something comes across as too spoilery)
Actual footage of me after finishing this book: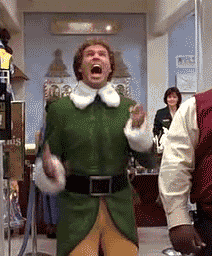 I had incredibly high expectations going into this book, but did that stop it from completely knocking me off my feet anyway? Nope, not at all! The Princess Will Save You was everything I dreamed it would be and MORE!
This revamp of The Princess Bride pokes fun at the damsel in distress trope and turns it on its head in a really fun way:
"Luca swallowed the blood in his mouth and looked right into the girl's eyes… 'My princess won't bow to your demands. But what she will do is come for me, which means she's coming for you, whether I'm alive or not.'

'The princess will save you. Yes, yes, that's right. That's how all the storybooks go.'"
I'm a huge Princess Bride fan, but I've always thought that the film lacked the much-needed element of female empowerment. After all, the movie isn't exactly pushing the boundaries of what female characters can achieve.
But The Princess Will Save You takes the story to a whole new level.
The book unravels the tropes and stereotypes of fairy tales in an unapologetically feminist way. In Ardenia, a kingdom where sexism and gender inequality are normalized (much like our world today, unfortunately), there are so many strong female characters! Let's start with our protagonist, Amarande… I loved her so much! She was headstrong, but never obnoxiously so, and refused to be told what to do. Her bravery, selflessness, and strength (inner and outer) were so admirable. Beyond being strong-willed, stubborn, and relentlessly brave, she had this sureness about herself that I absolutely loved. Being the female heir in a kingdom based upon sexism, she was constantly being talked down to by her male counterparts and was always seen as "less capable" just because of her femininity. But Ama didn't let any of this deter her. With grace and confidence, she showed her people that just because she was a girl did not mean she couldn't be a strong and capable ruler. I especially loved the scenes in the book where Ama left Ardenia's male counselors completely flabbergasted with her blunt and clever comebacks to their blatantly sexist remarks. 😂
Other than Ama, there are many other female characters in this book that I could gush about endlessly. Koldo and Ula were two of my favorites. They were both strong, determined, and resilient in different ways.
And while this is certainly a feminist novel, the male characters in it are just as loveable as the female ones! Luca was such a sweetheart! I just want to drag him out of the book and give him a huge hug (…and possibly a smooch 😉). I love how he cared so much for Ama, and how he'd basically do anything for her. GET ME A MAN LIKE THAT. What I love most about his character is that he's not your typical brooding, toxic male love interest we see so often in YA. He was a lot like two of my favorite book boyfriends, Peeta Mellark and Maxon Schreave (so if you like those boys, you'll love Luca ❤).  He was kind, caring, and gentle… characters like Luca are the reason why my dating expectations are so high. It's rare to come across a boy with all of the traits Luca possesses, but hey, a girl can dream, right? 😍
The romance between Ama and Luca was something I was apprehensive about going into the book. I'm not usually a fan of stories that start with the two love interests already together. I prefer to see the development and build-up of the relationship before the two characters eventually become lovers. But the thing is, despite the fact that Ama and Luca were pretty much in love from the get-go, their relationship still had many obstacles and hurdles that had to be overcome. The two were separated from one another for a majority of the book, but that didn't stop them from making endless sacrifices to save one another. Their love was so strong, and I ship them so freaking hard! Though I must confess, I'm *a little* jealous of Ama.
We've talked a lot about the good guys in this book, so let's talk about the bad guys… the villains! I thought Renard was a great antagonist because he pissed me off to no end. He was sexist, controlling, self-absorbed, and annoyingly cunning. I did not like that dude at all! Let's just say that I'm happy Sarah Henning gave him the ending he deserved… *cackles menacingly*
Ula, Uritzi, and Denixi were such a cute little squad of anti-heroes! I loved how they started out as villains and eventually wormed their way into my heart with their witty banter and hilarious bickering. I really hope we get to see more of these characters in this book's sequel, as they were beyond fun to read about!
I think I've talked enough about characters so let's discuss THE PLOT. For the most part, The Princess Will Save You is a journey book, meaning it mainly consists of the characters travelling from place to place and meeting occasional obstacles along the way. I HATE JOURNEY BOOKS. I've always found them to be so boring and slow-paced. But The Princess Will Save You was the very opposite! It was fast-paced, intense, and captivating. I was completely hooked from start to finish, and I think this is mainly because Sarah Henning does a fantastic job of making us readers feel how high the stakes are for Ama and Luca. Everything is on the line. Their love, their lives, their kingdom. We're able to understand just how much pressure these characters are under, making the story all the more thrilling.
Also… THAT CLIFFHANGER. Give me the next book already! I'm begging, PLEASE!!! *cue sad, puppy dog eyes* 🥺
All in all, I simply adored The Princess Will Save You (if you somehow couldn't already tell). With wonderful characters, an adorable romance, and a fast-moving plot, it's everything I could ever want in a book!
I'm eagerly anticipating the sequel… In the meantime, I'll just be fangirling about how Luca is an adorable teddybear and how Ama is a fierce, badass princess who is going to make an amazing queen! I can't wait to see where these characters' story goes!
(I'd give it six stars if I could)