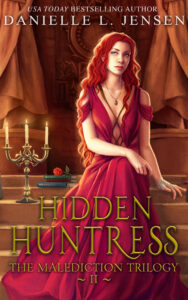 Beneath the mountain, the king's reign of tyranny is absolute; the one troll with the capacity to challenge him is imprisoned for treason. Cécile has escaped the darkness of Trollus, but she learns all too quickly that she is not beyond the reach of the king's power. Or his manipulation.
Recovered from her injuries, she now lives with her mother in Trianon and graces the opera stage every night. But by day she searches for the witch who has eluded the trolls for five hundred years. Whether she succeeds or fails, the costs to those she cares about will be high.
To find Anushka, she must delve into magic that is both dark and deadly. But the witch is a clever creature. And Cécile might not just be the hunter. She might also be the hunted…
Hidden Huntress was a very worthy follow-up to its predecessor, Stolen Songbird. The Book 2 curse is a very common occurrence within the YA genre, but somehow this book managed to avoid it! In this sequel, Cecile's story expanded far beyond the events that took place in Stolen Songbird, but both books are united by their glorious storytelling, complex world-building, and fantastically developed characters.
Hidden Huntress begins with our two main characters, Cecile and Tristan, worlds apart… literally. I truly appreciated how though the lovers were seperated for the bulk of the story, they didn't spend the whole book pining, wallowing, and whining about how much they longed for each other. Nope, none of that cheesy stuff! This book focuses much more on plot than romance, making it quite different from Stolen Songbird, which was pretty romance heavy, if I'm being honest. Don't get me wrong– I love love LOVE Cecile and Tristan as a couple. They're literally my OTP. ❤ But was it refreshing to see the series focus more on the plot and history of the world rather than the romance? Definitely.
Hidden Huntress dives deeper into the history of Trollus, as well as the search for Anushka, the immortal witch who cursed the magical city hundreds of years ago. Cecile's hunt for Anushka was so captivating to follow, and I found myself wanting her to find the witch almost as badly as she herself did. In addition to Anushka, several new characters are introduced to the story, as well as characters from book one that didn't really get much time in the spotlight.
Cecile's mother, for example. While I certainly didn't respect her parenting skills (not to mention the horrible things she did throughout the book), it was interesting to see her relationship with Cecile grow and develop. It's a very love-hate dynamic, but I thought it was extremely well written on Danielle L. Jensen's part. Most mothers in YA are either dead, absent, or abusive, so it was a pleasant surprise to meet one that wasn't outright abusive, but also not the picture-perfect parent. Though Cecile's mother constantly put her own selfish needs above Cecile, I think she still cared about her in her own twisted way. Beyond that, getting to hear her heartbreaking backstory also caused me to feel a bit sympathetic towards her. I don't condone her actions at all, but she was definitely a unique character to read about, and I'm glad Danielle L. Jensen developed her character the way she did.
Cecile's relationship with her mother wasn't the only one she struggled with throughout the book. She also had to overcome many obstacles in her relationship with Tristan, her husband. Cecile and Tristan's romance was a lot more serious in book two than it was in book one, likely because the stakes were so much higher and so much more was at risk, including both of their lives. They wanted to protect each other and the people they loved, but that often put them at odds. They fought and argued quite a bit, but all for completely justified reasons. Relationships aren't easy, and I'm glad that this one was portrayed so honestly and realistically. Cecile and Tristan are both very complicated, morally grey characters, and though I didn't always agree with their choices, I truly do love their depth and complexity.
But while this story flourished in regards to character development, it did, unfortunately, lack in other areas. I was a tad disappointed by how little the city of Trollus was featured in the novel. The thing I loved most about Stolen Songbird was its magical setting that completely swept me off of my feet, which is why I felt rather ripped off when Trollus, and all of its beauty, mystery, and lushness, was hardly part of the story at all. I understand that there was no way to make Trollus the primary setting of the book, as that would totally disrupt the plot. But, alas, I did miss it, and I wish it had been a bigger part of the story.
But did that ruin my overall reading experience? Absolutely not! I'm still 100% invested in this story and all of the fantastic characters in it. Danielle L. Jensen's storytelling is truly fabulous, and she's very quickly becoming one of my favorite authors!
I can't wait to see how Cecile and Tristan's story finally comes to an end in the series finale, Warrior Witch. I have very high hopes! ❤