August was quite the busy month for me!
I returned to school which was… rough. I'm very happy to be productive again, because my classes keep me busy, and I actually enjoy most of them! HOWEVER, being on video call with all of my teachers and classmates is so anxiety-inducing for me. I've only been in school for two weeks, but already I can feel myself overthinking everything I say and do. I'm stressed, paranoid, and extremely anxious, but I'm trying to keep it under control. And I'm not going to be hard on myself… It's a challenge to go back to a school environment after months of isolation and social separation, even if everything is online.
Anyways, other than my return to school, there isn't really anything new going on in my life! I've been spending a lot of time on Bookstagram lately, and I'm on my way to reaching 1000 followers! I recently changed my feed's theme, and I'm quite happy with it! I've been becoming a lot more involved in the community, and I'm so glad! I've also gotten sooooo many great book recommendations from Bookstagram this month, and you can bet that I'll be adding many of them to my TBR.
I actually got a lot of reading done in August after only reading a few books in July. Most of the books I read were 4 stars, so I would say that as a whole, August was a pretty solid reading month. Here's what I read!
Total: 13 books
Seven Devils by Laura Lam and Elizabeth May: I've been reading a ton of science fiction lately, and Seven Devils has quickly made it to my list of favorites. Where do I even begin with this book? Everything was so expertly written. The characters, universe, and politics of the book were all so fascinating, and I'm dying to get my hands on the sequel! Rating: ★★★★☆
A Bigfoot's Gift by Mel Braxton: I had so much fun reading this adorable middle grade story! The characters and friendships in the book were all so sweet, and I loved all of the heartwarming themes that were portrayed. A Bigfoot's Gift is a hidden gem of a book, and I'm so excited to start reading the next book in the series! Rating: ★★★★☆
Legendborn by Tracy Deonn: Legendborn was a wonderful #OwnVoices fantasy novel full of magical realism, charming characters, fabulous world-building, and a swoon-worthy love triangle. The magic system was beautifully intricate, and the author crafted it so well. The protagonist, Bree, was such a great character, and I loved how her struggles with grief, loss, and discrimination were portrayed so honestly. This was a wonderful debut novel! Rating: ★★★★☆
The Night Circus by Erin Morgenstern: The Night Circus was such a magical book. I didn't know what to expect coming into it, but it ended up completely sweeping me off of my feet. The atmosphere of the story was so stunning, and though the book had its issues (*cough cough* the romance), I can see why people love it so much. The hype is well deserved! Rating: ★★★★☆
A Song Below Water by Bethany C. Morrow: This was a really cool story, and I loved all of the conversations about BLM. But, with that being said, this book had its issues. For one thing, there were so many plot lines and so little world building that the story was hard to follow sometimes. We're just thrown into this alternate Portland where sirens, sprites, and gargoyles somehow exist, yet there's really not much explanation behind the world's magical elements. Hm. Beyond that, the storytelling style just wasn't really for me. This book is under 300 pages, but it still felt so slow. Tavia and Effie were both interesting characters, but all of my issues with this story got in the way of me really connecting with them. This was a fun book, but it definitely let me down in some ways. Rating: ★★★☆☆
Crownchasers by Rebecca Coffindaffer: Y'all don't even know how happy I was to receive an arc of this gem this month! Crownchasers was definitely one of my favorite books of August. It was just so damn good. The characters and their relationships with one another were beautifully crafted, which is so special to see in a sci-fi setting. I already know that the wait for this book's sequel is going to be a hard one… especially considering book one isn't even out yet! Rating: ★★★★☆
Crimson Bound by Rosamund Hodge: Rosamund Hodge is literally the QUEEN of fairy tale retellings! I'm not sure if I liked Crimson Bound quite as much as Cruel Beauty, but it sure is a close call. Both books are just so damn good. I really love how all of Hodge's characters are so morally grey, because that's partly why her stories are so interesting. Rachelle was such a complex character, probably because she was so flawed! The magic system in this book was also incredible. It was brilliantly thought out, and I was just so in awe of it! Overall, Crimson Bound is a spectacular YA fantasy that has quickly made it to my list of favorite retellings! Highly recommend this book! Rating: ★★★★☆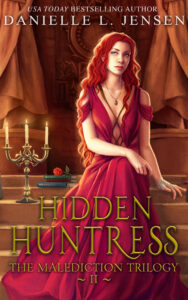 Hidden Huntress by Danielle L. Jensen: While not nearly as good as its predecessor, Hidden Huntress was a promising follow-up to Stolen Songbird. I loved seeing Cecile and Tristan grow and develop as characters, and while I didn't always agree with the decisions they made, I appreciated how morally grey the two of them were. I was sad to discover that the city of Trollus wasn't the primary setting of this book like it was in Stolen Songbird, but I understand that it wouldn't have made sense with the story's plot. This was still a solid read! Rating: ★★★★☆
The Kingdom by Jess Rothenberg: Holy crap… this was such a cool book. Definitely one of my top three of the month! The Kingdom is set in a dark, futuristic version of DISNEYLAND, which is just AMAZING. The atmosphere of the story is gloomy, oppressive, and eerie, and I loved every second of it. My favorite books are the ones that literally send shivers down my spine, and that's exactly what The Kingdom did to me! It's such a great book with such a great concept behind it. Why, oh why, did I leave it on my TBR for so long? Rating: ★★★★½
A River of Royal Blood by Amanda Joy: This book contains some of the best fantasy world-building I've ever encountered! While it certainly was dense, I think that it was totally worth it. A River of Royal Blood is full of gorgeous imagery, amazing characters, and a complex magic system, with a fascinatingly intricate conflict at the center of it all. I loved how each supporting character was as well developed as the protagonist, and I was utterly captivated by the character relationships as well. Can't wait to read the upcoming sequel! Rating: ★★★★☆
Warrior Witch by Danielle L. Jensen: While I enjoyed Warrior Witch to a certain extent, I'd be lying if I said I wasn't kind of disappointed by it. The bulk of the book was extremely slow, and though it definitely picked up at the end, I'm not sure if it was worth it or not. Another issue: Cecile, the main character, was super annoying in this book. I loved her in Stolen Songbird and Hidden Huntress, but she really got on my nerves in Warrior Witch. She was whiny, demanding, and manipulative, and I hated seeing her blame her mistakes on all of her friends. But you know what, Cecile DID go through a lot of suffering throughout this series, so maybe I should give her a pass. No character is perfect! The thing that really saved this book for me was the ending… Long story short, it had me bawling for hours! Rating: ★★★☆☆
Far From Normal by Becky Wallace: I fell head over heels in love with this story! The romance was ridiculously cute, and all of the characters were so sweet and pure. Maddie and Gabe are so adorable together, and the way their story ended just melted my heart. I'm not usually one to gravitate towards contemporary romance, but I am SO GLAD I gave this book a read. It was truly fantastic. Rating: ★★★★★
The Winner's Curse by Marie Rutkoski: This was a solid read! The plot was a bit slow sometimes, sure, but I appreciated the complex world-building and intricate character dynamics and relationships. The ending was just incredible, and, since I'm currently reading the sequel, I can confirm that it was the perfect set-up for book two! I've totally been sleeping on this series… It's incredibly underrated! Rating: ★★★½☆
Thanks to school, I really didn't have tons of time to blog this month. But I did manage to post a decent amount nevertheless! Prepare for MANY reviews!
ARC Review: Seven Devils by Laura Lam and Elizabeth May
"Like that? Read this!" Book Recommendations
ARC Review: A Bigfoot's Gift by Mel Braxton
ARC Review: Legendborn by Tracy Deonn
Most Anticipated Releases of September 2020
Review: Hidden Huntress by Danielle L. Jensen
ARC Review: Crownchasers by Rebecca Coffindaffer
You can BET that despite all of the school-related chaos in my life right now, I am going to do my best to read all I can in September! There are so many wonderful releases coming out this month that I'm DYING to get my greedy little hands on, so I'll definitely be reading some of those in the near future. One of my pre-orders has already arrived– Blood & Honey by Shelby Mahurin, the sequel to Serpent & Dove (one of my favorite 2019 releases)! I am soooooo looking forward to reading this book, along with several other September releases that I've been keeping my eye on.
The Other Side of the Sky by Amie Kaufman and Meagan Spooner is probably tied with Blood & Honey for the #1 September release that I'm the most hyped for. I've loved everything that Amie and Meagan have written together in the past, and I have no doubt that I'll adore this book just as much! I also have a ticket for Amie and Meagan's virtual book tour, and I am beyond excited to get to hear from them, even if it's over video call!
I'm planning on spending the rest of September settling into my new routine while still spending time doing the things I love (reading and blogging)! It's all about balance, y'all.
I hope everyone had a great August, and I'm crossing my fingers that September ends up being even better.
Bye for now,