Hello everyone!
I'm officially on winter break, so I thought the perfect way to celebrate that would be to participate in the 12 Days of Christmas Book Tag, originally created by Lizzie Loves Books!
Let's dive right in!
ON THE FIRST DAY OF CHRISTMAS, MY TRUE LOVE SENT TO ME: A PARTRIDGE IN A PEAR TREE.
The partridge stood alone in the pear tree. What is your favorite stand alone?
I've read so many amazing standalones, but To Kill a Kingdom by Alexandra Christo takes the cake! Everything from the fascinating morally grey characters to the addictive enemies-to-lovers romance was PERFECT! To Kill a Kingdom was a wonderful standalone, but sometimes I wish it was a series instead 😂 I just didn't want the book to end!
ON THE SECOND DAY OF CHRISTMAS, MY TRUE LOVE SENT TO ME: TWO TURTLE DOVES.
Love is in the air! Who is your one true pairing?
I was tempted to answer this question with a more well-known ship like Feyre and Rhys, Will and Tessa, or Jude and Cardan, but then I thought: NO! Why not shed some light on a bookish ship that deserves way more attention than it gets: Lilac and Tarver from the Starbound trilogy! You probably haven't heard of these two, but trust me, they are literally the CUTEST together. Their romance is so sweet, beautiful, and wholesome!!! ❤❤❤
ON THE THIRD DAY OF CHRISTMAS, MY TRUE LOVE SENT TO ME: THREE FRENCH HENS.
In the spirit of threes, what is the best trilogy you have read?
This is going to sound so basic, but… The Hunger Games. It'll always been one of my favorites series of all time, and I don't think I'll ever get tired of rereading it! I love all of the characters so much, especially my precious babies Finnick and Peeta. 🥺
ON THE FOURTH DAY OF CHRISTMAS, MY TRUE LOVE SENT TO ME: FOUR CALLING BIRDS.
Since series usually consist of four or more books, what is your favorite series?
You didn't expect me to only pick ONE, did you?
ON THE FIFTH DAY OF CHRISTMAS, MY TRUE LOVE SENT TO ME: FIVE GOLDEN RINGS.
One ring to rule them all! Who is your Favorite Villain/Antagonist?
Queen Levana Blackburn from the Lunar Chronicles has always fascinated me. Like any other wicked YA antagonist, she is cruel, heartless, and self-serving… but she also has tons of layers that make her so interesting to read about. When I read Fairest, the LC prequel that tells Levana's origin story, I learned so much more about her character. Fairest didn't make me forgive her for all of the horrific things she did as Queen of Luna, but it definitely helped me understand her motives and desires more. Props to Marissa Meyer for crafting a complicated villain with so many interesting dimensions!
ON THE SIXTH DAY OF CHRISTMAS, MY TRUE LOVE SENT TO ME: SIX GEESE A LAYING.
Creation is a beautiful thing. What is your favorite world/world-building?
I just LOVE the world-building in The Queen of Blood by Sarah Beth Durst. It is so enchanting and intricate, and I wish more people knew about it! Fantasy worlds tend to all blur together (they are oftentimes quite similar), but the magic system in The Queen of Blood is so original and unique. If you haven't read this book yet, I definitely recommend giving it a go!
ON THE SEVENTH DAY OF CHRISTMAS, MY TRUE LOVE SENT TO ME: SEVEN SWANS A SWIMMING.
Who needs seven swans when all it takes is one good animal sidekick? Who's your favorite animal sidekick?
I absolutely love the Bindle Cat from The Other Side of the Sky by Amie Kaufman and Meagan Spooner! I've been a cat lover my whole life, so when a book contains a feline sidekick, I'm already obsessed with it.
ON THE EIGHTH DAY OF CHRISTMAS, MY TRUE LOVE SENT TO ME: EIGHT MAIDS A MILKING.
Milk is so 18th century. Which book or series takes beverages/food to a whole new level?
The Keeper of the Lost Cities series is set in magical, Elven cities with the most delicious foods! All of the incredible baked goods and desserts of the Lost Cities are simply MOUTH-WATERING to read about! One of my favorite treats from the series is mallowmelt: a scrumptious dessert bar that consists of gooey marshmallows and melty chocolate chips! The author actually created a recipe for this dessert, so if you'd like to make it, you can find it here!
ON THE NINTH DAY OF CHRISTMAS MY TRUE LOVE SENT TO ME: NINE LADIES DANCING.
Dancing is just one skill of a Lady! Who is your favorite kickass female lead?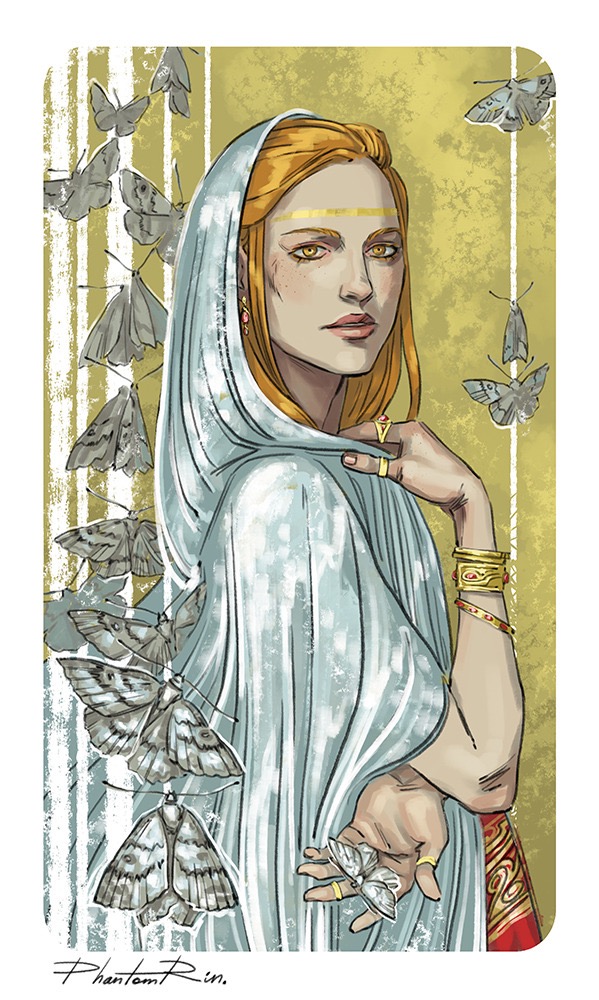 I absolutely love Kestrel from The Winner's Curse series! She is such a clever, strategic female lead!
ON THE TENTH DAY OF CHRISTMAS MY TRUE LOVE SENT TO ME: TEN LORDS A LEAPING.
How about your favorite leading lad?
Of course, I had to go with none other than Percy Jackson for this prompt! The PJO series is what made me fall in love with reading in the first place, as I was instantly enchanted by Percy's charming and witty narration!
ON THE ELEVENTH DAY OF CHRISTMAS MY TRUE LOVE SENT TO ME: ELEVEN PIPES PIPING.
What is your favorite book or bookish thing with musical influence? (It can be about music, reference music a lot etc.)
Stolen Songbird by Danielle L. Jensen is one of my favorite fantasy novels of all time, and its main character, Cecile, is an opera singer! Cecile's connection with music is such a beautiful aspect of the book, and it's partially why I loved getting to read from her POV so much!
ON THE TWELFTH DAY OF CHRISTMAS MY TRUE LOVE SENT TO ME: 12 DRUMMERS DRUMMING.
Drum roll please…what is your favorite read of this year?
Gosh, I've read so many fantastic books this year, it's hard to choose just one favorite! But I think I'm going to have to go with Defy Me by Tahereh Mafi. I'm aware that a lot of people didn't enjoy the last three Shatter Me books (Restore Me, Defy Me, and Imagine Me) as much as the first three (Shatter Me, Unravel Me, and Ignite Me), but Defy was my favorite book in the whole series! It was such an emotional read, and after I finished it, I just sat in silence for hours, literally contemplating my own existence… THAT is how much I loved this book! The characters in this series have my whole heart, and it was fantastic getting to see them go through so much growth and development in Defy Me!
I Tag:
Anyone else who would like to participate!
This tag was tons of fun!! I hope you all have a very merry Christmas, and with that, I'll see you soon!
Until next time,