Thank you so much to the author, Adrienne Tooley, for sending me a gorgeous review copy of this title!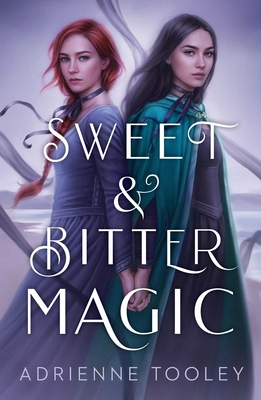 In this charming debut fantasy perfect for fans of Sorcery of Thorns and Girls of Paper and Fire, a witch cursed to never love meets a girl hiding her own dangerous magic, and the two strike a dangerous bargain to save their queendom.
Tamsin is the most powerful witch of her generation. But after committing the worst magical sin, she's exiled by the ruling Coven and cursed with the inability to love. The only way she can get those feelings back—even for just a little while—is to steal love from others.
Wren is a source—a rare kind of person who is made of magic, despite being unable to use it herself. Sources are required to train with the Coven as soon as they discover their abilities, but Wren—the only caretaker to her ailing father—has spent her life hiding her secret.
When a magical plague ravages the queendom, Wren's father falls victim. To save him, Wren proposes a bargain: if Tamsin will help her catch the dark witch responsible for creating the plague, then Wren will give Tamsin her love for her father.
Of course, love bargains are a tricky thing, and these two have a long, perilous journey ahead of them—that is, if they don't kill each other first…
This book was everything I could've hoped for and MORE!
It was my most anticipated book release of the year, and when an ARC of it showed up on my doorstep, I nearly cried. And I nearly cried AGAIN once I finished it because it was absolutely phenomenal!
If you're looking for a fresh, delightful fantasy standalone full of cursed witches, mysterious magic, and a wonderful sapphic romance, allow me to introduce you to Sweet & Bitter Magic! This enchanting tale of witchcraft, love, and magic really has it all: intricate world-building, sensational writing, a fascinating magic system, and two very complex main characters who I had so much fun getting to know!
The first of those two characters is Tamsin, an exiled witch who, after practicing dark magic and thus breaking one of the most critical laws of witchcraft, has been cursed to never feel love again. You might think that a character who has no capacity for love would be quite a boring one, but believe me, Tamsin is the opposite of boring. She's such a unique character who I found myself connecting with instantly, because even though she's unable to feel love, her desire to feel love makes her so fascinating. Not only that, but her grief, guilt, and regret over things that happened in her past captivated me… I just LOVE a character with a complicated backstory! Another thing: Tamsin's relationship with Marlena, her sister, really added to her depth. It's such an absorbing dynamic, and you can feel how much thought Adrienne Tooley put into it. In Tamsin and Marlena's relationship, every emotion is present: love, loss, anger, jealousy, sacrifice… My heart broke for both Tamsin and Marlena, for I was able to connect and empathize with both of their struggles and hardships.
Now, let's talk about Wren, our second main character. I loved her just as much as Tamsin, and want to know what makes that so amazing? The two girls' personalities never ever blur together. They're just so different! Wren is curious, adventurous, and bold, and she longs for so much more than the hollow, dull life she's been given. Like Tamsin, Wren has her own personal struggles and desires that weigh heavily on her throughout the novel. She desperately wants to save her ailing father who has become a victim of a horrible plague, but the sacrifices she'll have to make to do so terrify her. Wren's relationship with her father is so interesting, because while she loves him endlessly, she also knows that her dedication to him is holding her back from living the life she yearns for. Wren's conflicting emotions make her such a wonderful, complicated character who is easy to root for. I really loved getting to read through her and Tamsin's perspectives, especially since their romance is SPECTACULAR!
It was so sweet, wholesome, and swoonworthy… no words could ever do it justice, in my opinion! I also really appreciate that it didn't overpower the other elements of the book, such as the character development and magic system. This story is perfectly balanced, and that's why I loved it so much!
In sum, Sweet & Bitter Magic is a FANTASTIC novel that I'm so glad I got to read! Part of me is sad that it's over, but that's why we have re-reads, right? 😂 All in all, every single second of this gorgeous, breathtaking tale was utter perfection, and I can't recommend it enough.
About the Author:
Adrienne Tooley was born and raised in the desert suburbs of Southern California. She grew up in the theater, earning her B.A. in Musical Theatre from Point Park University. She and her wife currently live in New York City where she works in hospitality tech. In addition to writing novels she is also a singer/songwriter and has released several EPs which are available on Spotify & other streaming sites. Her debut novel, SWEET & BITTER MAGIC, will publish from S&S/McElderry in Spring 2021. Her second novel, SOFI AND THE BONE SONG, will release from S&S/McElderry in 2022. She can be found on Instagram and Twitter at @adriennetooley.
Buy the Book:
SWEET & BITTER MAGIC: AMAZON | BARNES & NOBLE | INDIEBOUND