Happy Friday everyone! I hope you've all had a fantastic week.
As you might've gathered from the title of this post, today I'm going to gushing about all of the sequels that I'm DYING to read! I've been meaning to publish a sequels-related post for some time now, so trust me when I say that this list is long overdue.
One of my reading goals for 2021 is to stop leaving so many series unfinished, so naturally, there are quite a few sequels on my TBR. Some of these books are ones that will be coming out in the near future, while others are back-list books that I can't wait to devour!
Let's go ahead and dive right in!
Dragonfly in Amber by Diana Gabaldon (Outlander, Series Book #2)
I finished Outlander last month, which was a big accomplishment for me… That beast of a book is over 800 pages long! But thankfully, the intimidating length ended up being nothing to worry about, since the novel was absolutely phenomenal! I'm very excited to see where Claire and Jamie Fraser's story goes next in book two, Dragonfly in Amber (which is even LONGER than Outlander!). In preparation for Dragonfly in Amber, I'm currently watching Season 1 of the Outlander TV show, which I'm enjoying quite a lot so far. The show is beautifully filmed, and I'm finding that it follows the events of the book pretty closely, which is a big relief! Watching the show is getting me super eager to start Dragonfly in Amber; Hopefully I'll be able to pick it up sometime next month!
The Crown of Gilded Bones by Jennifer L. Armentrout (From Blood and Ash Series, Book #3)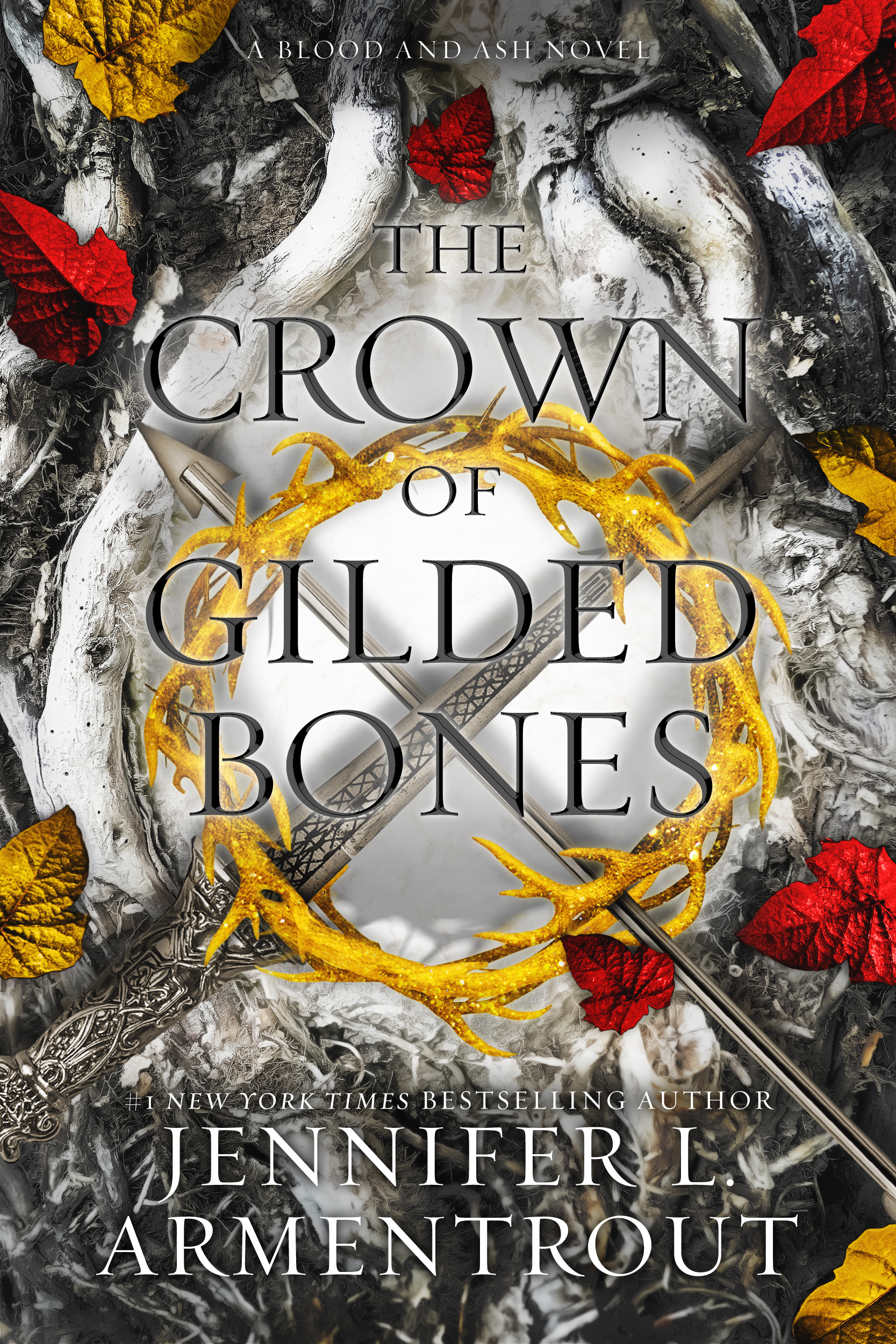 The From Blood and Ash series has quickly become a new obsession of mine. I simply adore the characters, world-building, and romance, and I'm beyond excited to see how they're further developed in book three of the series: The Crown of Gilded Bones. You can rest assured that I already have my copy of the book pre-ordered, and that I'll be diving straight into it as soon as it arrives on my doorstep!
Aurora Burning by Amie Kaufman and Jay Kristoff (Aurora Cycle Trilogy, Book #2)
Ever since I flew through Aurora Rising last December, all I've wanted to do is devour its sequel, Aurora Burning. The only thing that's kept me from doing so is the knowledge that the final book in the series won't be coming out until November… Womp, womp, womp. I'll probably have to wait a little while longer until I start this book, or else I'll forget everything that happened in it by the time book three comes out! But on the bright side, the cover and title for Aurora Cycle #3 will be released on the authors' Instagram accounts TODAY! And I can hardly wait! I'll be refreshing my Instagram feed every five seconds until the cover/title reveal is posted, lol. Does anyone have any guesses for what the title will be and who will be on the cover? I myself haven't come up with any great guesses… Maybe Aurora Shining? Or Aurora Blazing? Or… Aurora Colliding???? As for who will be on the cover… I feel like it'll be Scarlett or Finian!
Romancing Mister Bridgerton by Julia Quinn (Bridgerton Series, Book #4)
After hearing all the buzz about the Bridgerton TV show, I knew it was about time I read the book series! I finished The Duke and I, the first book in the series, a few weeks ago, and while it was a decent read, I personally didn't think it was anything special. Then, about a week ago, I read The Viscount Who Loved Me, and let me tell you… IT WAS ABSOLUTELY FANTASTIC! The writing was quick and witty, and the two main characters, Kate and Anthony, were so much fun to read about. Now, I'm about halfway through book three, An Offer From a Gentleman, and I'm enjoying it a lot! As soon as I finish that, I'll move onto book four: Romancing Mister Bridgerton. I'm especially excited to read this installment in the series because it focuses on Penelope Featherington, a character who I am very intrigued by! I'm just so glad that I didn't give up on this series after finding The Duke and I somewhat mediocre… Books two and three have proven to be much better, so hopefully I'll be able to say the same about book four!
Bone Crier's Dawn by Kathryn Purdie (Bone Grace Series, Book #2)
I buddy-read Bone Crier's Moon with my friend a couple months ago, and we both really, really liked it. The magic system was so absorbing, and I loved the character dynamics! The sequel, Bone Crier's Dawn, comes out at the end of the month, and it's yet another book on this list that I have pre-ordered! After the jaw-dropping events of the last few chapters of Bone Crier's Moon, I desperately need to know what will happen next! For that reason, I'll definitely be diving into Bone Crier's Dawn as soon as I possibly can. I'm counting down the days til March 30th… This book truly can't come out soon enough!
A Heart So Fierce and Broken by Brigid Kemmerer (Cursebreakers Series, Book #2)
I read A Curse So Dark and Lonely, the first book in this series, a pretty long time ago, so I'm probably due for a re-read before I pick up A Heart So Fierce and Broken. But regardless of that, I'm still very much looking forward to reading this sequel! From what I've gathered, it contains chapters written through the perspectives of not just Harper and Rhen, but Grey and Lia Mara as well! I absolutely love books written in multiple POVs, as long as the author is capable of juggling them all while still thoroughly developing each character. But I'm certain Brigid Kemmerer is up to the task! So far, her work has failed to disappoint me, so I'm sure A Heart So Fierce and Broken will be no exception!
The Queen Will Betray You by Sarah Henning (Kingdoms of Sand and Sky Series, Book #2)
I was lucky enough to receive an ARC of The Princess Will Save You last year, and I absolutely loved it! Unfortunately, though, reading an early copy of the book has made the wait for the sequel all the more agonizing! I've now been anxiously anticipating the publication of The Queen Will Betray You since May of 2020, but thankfully, release day is almost upon us! 3.5 months isn't that long of a wait… right?
Are any of these sequels on your TBR as well?
If they are, let me know! And feel free to tell me what other sequels you're looking forwarding to reading, too!
Well, I suppose that's it for today! Thank you so much for reading this post!
Until next time,