I confess, April wasn't the most eventful month for me. I was in a pretty bad reading slump for a majority of it, so I definitely didn't get as much reading done as I would have liked. By the time the month was half over, I decided to treat myself to a re-read of the Folk of the Air trilogy, one of my all-time favorite series, in hopes that it would help cure my slump, and luckily for me, it did!
I also busied myself with watching the TV adpatation of Shadow and Bone last month! I ABSOLUTELY LOVED IT. First of all, it was incredibly well casted. All of the actors fit their characters SO WELL. And surprisingly, I actually found myself liking some of the TV versions of characters more than the book versions (Mal and Alina, for example). My favorite parts of the show were EASILY the Nina and Matthias scenes. Danielle Galligan and Calahan Skogman portrayed their characters PERFECTLY. I'm very much looking forward to seeing more of them in Season 2 (because we ARE getting a Season 2, right Eric Heisserer?).
Anyways, after finishing Shadow and Bone, I spent the remainder of the month fan-girling over the series' actors and stalking their instagram accounts. I'm in love with pretty much all of them.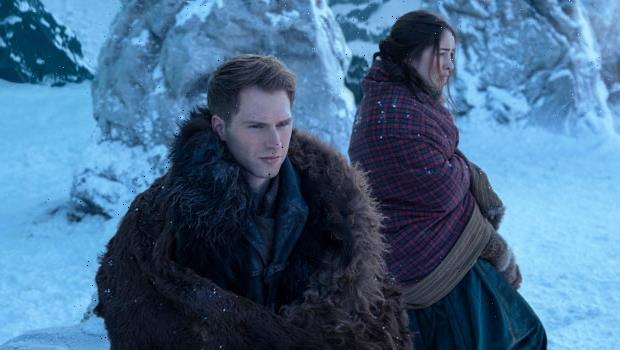 Okay, back to reading. As I already mentioned, I didn't read very much this month, but most of the books that I did manage to pick up were really great (no surprise there, since half of them were re-reads). Let's go through them!
Total Number of Books Read: 6
The Cruel Prince by Holly Black (re-read): This was my third time reading The Cruel Prince, and it's still as magical as I remembered it to be! I loved getting sucked back into the whimsical world of Elfhame… It's truly one of my favorite fictional worlds to be in. Holly Black is such a magnificent storyteller, and her interpretation of the fae is so wonderfully unique. Her characters are fantastic too: Jude and Cardan are some of my all-time favorites, and I love how this book sets up their relationship. And that ending! It will never fail to amaze me! Rating: ★★★★★
The Lost Sisters by Holly Black: This was my first time reading The Lost Sisters, and though it's very short, it captivated me from the first page til the last. It's such a clever story. It's written in the 2nd person as an "apology" letter from Taryn addressed to Jude. Even though reading from Taryn's POV didn't make me like her, it DID help me understand her. Taryn's relationship with Locke is haunting and sickening, and it helps us make sense of the seemingly selfish descions she made in The Cruel Prince. If you're a Folk of the Air fan who hasn't read this novella yet, I highly recommend doing so! It's definitely worth the read. Rating: ★★★★☆
The Wicked King by Holly Black (re-read): There's nothing new I can say about this book, considering that I've already gushed about it on this blog countless times. The Wicked King is one of the best sequels I've ever read, and in my opinion, it's even better than its predecessor, The Cruel Prince, which set the bar VERY high! The tension between Jude and Cardan in this novel is EVERYTHING, and Holly Black does such a great job at developing their rivalry AND their romance. And with The Wicked King, Black once again proves herself to be the QUEEN of cliffhangers. The ending of this book was EVIL, and it made me super excited to dive straight into The Queen of Nothing. Rating: ★★★★★
The Queen of Nothing by Holly Black (re-read): Possibly my favorite installment in the Folk of the Air series, The Queen of Nothing absolutely blew me away every time I read it! It was one of those books that I literally couldn't stop reading since there was never a dull moment! It was full of so much action, intensity, and emotion, especially during the jaw-dropping climax. And the way the story ended was simply perfect… I couldn't have asked for a better conclusion! Rating: ★★★★★
How the King of Elfhame Learned to Hate Stories by Holly Black: I loved this beautiful collection of short stories! Cardan is one of my favorite characters within the Folk of the Air universe, so getting to read a whole novel told from his perspective was a dream come true. I loved getting to learn more about his dark childhood, as well as his relationships with other characters in the series, such as Nicasia and Locke. My only complaint is that this book was FAR TOO SHORT! Rating: ★★★★★
The Crown of Gilded Bones by Jennifer L. Armentrout: This book disappointed me on so many levels. I really wanted to love it, but how could I, when a majority of it was a complete trainwreck? The main reason why I struggled with it so much was because it was SO. SLOW. The first 100 pages of the book were pretty strong, but after that, I was hit with 400+ pages of exhausting info-dumping. Not only that, but the main characters, Poppy and Casteel, really, REALLY got on my nerves. The only character who made this book worth reading was Kieran. Rating: ★★☆☆☆
ARC Review: The Soulmate Equation by Christina Lauren
This month, I'm going to be focusing on putting my reading slump behind me and reading lots of good books. I have faith that I can do it, since I have a pretty great May TBR lined up. Luck of the Titanic, These Violent Delights, and Sing Me Forgotten are a few of the books on it, and I can't wait to read them!
Well, that's my April in a nutshell!
I hope you enjoyed this wrap-up, and if you've read any of the books listed above, make sure to let me know what you thought of them in the comment section.
That's it for now, everyone!
Until next time,